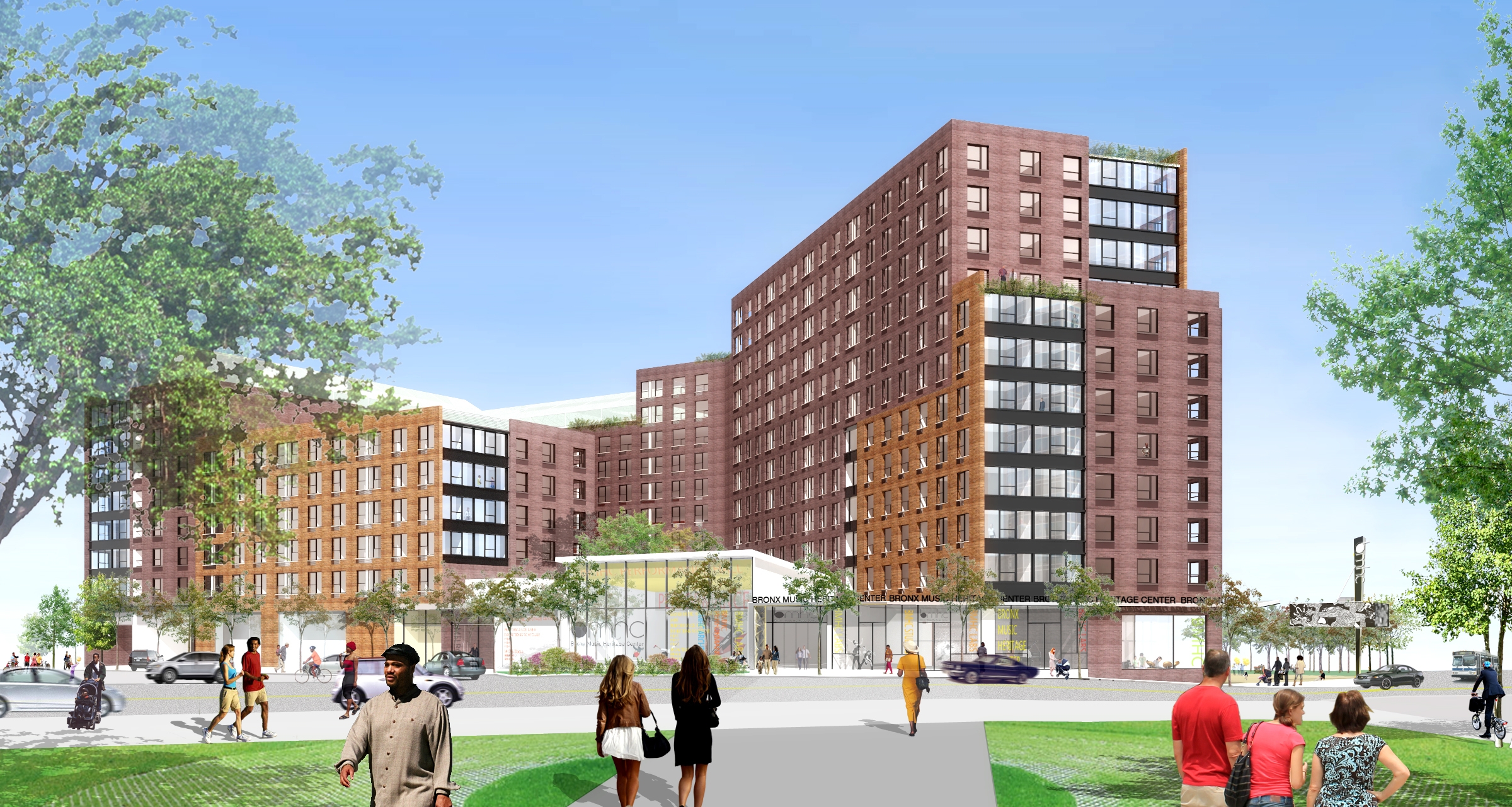 Partners for the Common Good (PCG) and the Contact Fund have partnered on a new loan to the Women's Housing and Economic Development Corporation (WHEDco). The $500,000 loan will fund the construction of the Bronx Commons Apartments, a 293 unit mixed-income development which will house the Bronx Music Heritage Center and 50,000 square feet of retail and community facility space.
The Bronx Commons Apartments' mixed-income units will be affordable to families earning between 50% and 80% of the area median income, with 88 units set aside for homeless families. The rooftop will feature a hydroponic green house and ground-level space to house the new Bronx Music Heritage Center.
"Bronx Commons will bring to fruition decades of resident advocacy. The Bronx Music Heritage Center—featuring a soundstage, recording studio, exhibits and archives—will educate young people about their vibrant neighborhood, attract visitors from around the world and incubate new sounds by a younger generation of musicians," said Nancy Biberman, founder and president of WHEDco. Active since 1992, WHEDco provides over 30,000 people annually with affordable housing, early childhood education, family support and microenterprise incubation.
The development will help fill a niche for affordable housing in a neighborhood with a poverty rate of nearly 40%. Nearly 50% of tenants in the neighborhood are cost burdened by their rents.
PCG and the Contact Fund have each contributed a $250,000 investment to the project for a total loan of $500,000. The loan to WHEDco is PCG's first housing loan in New York City. It is the first loan partnership between PCG and the Contact Fund.
"PCG loans have supported the construction and renovation of over 3,000 affordable units all across the country, but this is our first housing loan in New York City," said PCG chief credit officer Kristin Faust. "Our partnership with Contact Fund has been vital because they are experienced lenders in New York and really understand the needs of its communities."
"We are honored to be co-investors with Partners for the Common Good in WHEDco's exciting Bronx Commons mixed use development," said Mark Reed, founder and principal of the Contact Fund. "Having a secondary capital provider for early stage affordable housing developments will allow us to dramatically increase the presence and impact of socially motivated private capital in low income communities throughout New York City."