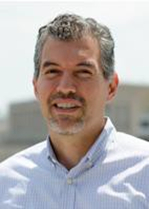 Director, Multifamily Division
Patrick Murcia is a Director in the Multifamily division of Fannie Mae, where he has worked for the past five years. In that role he manages a team of professionals handling relationships with a select number of high-profile institutional borrowers who develop quality multifamily rental housing. Before that, Patrick oversaw Fannie Mae's community development activities in the Western and Midwest regions, and was also an underwriter in the Multifamily Affordable Housing division.
Prior to joining Fannie Mae, Patrick spent ten years at Enterprise Community Loan Fund, most recently as Chief Credit Officer and Director of Lending in both San Francisco and Washington, DC. During that time, he also co-owned and -directed a progressive contemporary art gallery, known as Fusebox, in Washington, DC.
Patrick holds a BA in Latin American Studies from the College of William and Mary, where he played Division 1 soccer; and an MBA from American University. He serves on the Boards of Tenderloin Neighborhood Development Corporation and Delivering Innovation in Supportive Housing in San Francisco. His other interests include amateur soccer, crosswords, cooking, and darts.