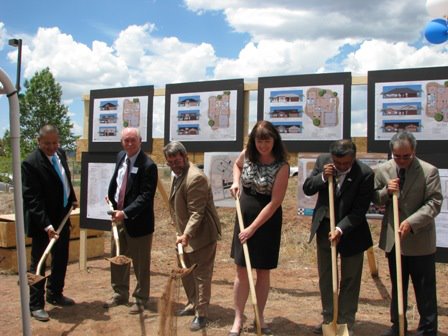 Partners for the Common Good is proud to announce its 150th community development loan to The Navajo Partnership for Housing. This $650,000 loan made with lending partner Community Housing Capital enables NPH to acquire and build 25 single-family homes near St. Michaels, Arizona, on land that is part of the Navajo National Reservation. This is an extremely rare opportunity as most land on the Reservation is in a deed restricted Tribal Trust. The Navajo Nation is willing to release 113 acres to NPH in the hopes of promoting homeownership and private land ownership in the area.
The Navajo Partnership for Housing began in 1996 and seeks to empower Navajo families with new knowledge, skills, and understanding to enable them to complete real estate transactions. NPH serves the Navajo Nation, the largest Native American tribe representing 225,000 members dispersed across 27,000 square miles of reservation and occupying three states. Through this program they have assisted over 480 families and generated $40 million in mortgage financing. They also offer a home buying education program that has been very successful, with 15,000 orientations completed to date. About 10 percent of the program's graduates are eligible to receive loans or grants for home financing.
These new homes will provide vital homeownership opportunities in a market that has historically lacked them. Before the 1990s no private bank had ever done mortgage lending within the Navajo Nation, as tribal law makes its real estate market unique and difficult to work with. The area also faces other hardships. Because potential jobs available on the reservation are limited, residents often must seek employment in nearby cities. In fact, between 25 and 43 percent of people on the reservation are unemployed; 40 percent of the families are below the federal poverty line, and the median income is below $20,000.
The land that will be developed is located on the border of the reservation and cities with active employment opportunities. As a result, there is substantial interest in these home sites. In fact, NPH has already screened over 100 families as potential homebuyers. As a result of this loan, residents will enjoy living on the reservation while earning a living in the nearby cities.
"The homes will be constructed on the reservation, and Navajo tribal members will have a unique opportunity to own the land as well as the home. ...The Navajo Nation's Karigan Development is a model for comprehensive Tribal planning for housing, economic and community development," states Michael Burnside, Project Manager Navajo Partnership for Housing.
PCG is excited about the opportunity to serve such a unique population. "The people of the Navajo Nation should not be penalized for wanting to reside on their reservation. The Karigan Estates project ensures that they can live comfortably on the land they deserve," said Partners for the Common Good Jeannine Jacokes.
To learn more about the Navajo Nation, visit their website here. To learn more about the Navajo Partnership for Housing, visit their Facebook page here.